If an apology is supposed to make amends, for many APIAs who attended the post-show panel of La Jolla Playhouse's The Nightingale, the words didn't soothe wounds.
"Until I see action," an actress, who asked to remain anonymous, commented, "I don't know what the apology meant."
She was a part of a Los Angeles contingent of APIAs and artists who made the two hour drive to La Jolla. Approximately 100 travelled specifically for the discussion, which included representatives of the New York-based Asian American Performers Action Coalition. Some, who 22 years ago protested the casting of Miss Saigon, were incensed that APIAs still contend with an imbalance in casting. According to a study AAPAC released earlier this year, only 1.5% of Broadway roles go to APIAs. APIAs have less opportunity than Caucasian performers to play their own ethnicity.
Award-winning actor Greg Watanabe of 18MMW writes in a Facebook posting,
"To see a show set in "mythical China" cast with 6 white males and only 2 Asian Americans…it's difficult not to just start shouting out swear words…it's that insulting; Asian Americans are relegated to token minority status in a play set in Asia."
Coming under fire was something that the La Jolla artistic team said they were not prepared for. Or the viral condemnation on the internet.
On Sunday, there were several apologies and niceties relayed. But founder of Mo'olelo Performing Arts Company Seema Sueko pointed out that the despite their artistic vision of multicultural casting — and even going beyond the complaint of Asian displacement — the production maintained a standard of institutionalized white privilege. African American females were subjugates to the white males. Of the two APIA females in the production, one plays the outsider who is subject to derision. The other is the titular (but not lead) character of the Nightingale. She's akin to the production's Klingon, in which diversity is offset by costume and make-up. Thankfully, she is not burdened by a protracted forehead.
But that's not enough to counter the problems with the casting. At the panel, Artistic Director Christopher Ashley and Casting Director Tara Rubin continually attested to the artistic vision of making the production non-specific and mythological. Yet the show: its costumes, set pieces, character names, history, and context — are undeniably Chinese. Ashley offered that, in order to emphasize the mythological, race-neutral locale of their vision, they implemented set pieces and decorations to discourage the audience from thinking it's set in a Chinese locale. Moroccan and Iranian wardrobes were implemented. So were non-Asian actors.
If one drizzles Velveeta on a char sui bao, does it suddenly become not Chinese (granted, I don't know why one would want to do that)?
The artistic team skirted the usual buzz terms such as "non-traditional casting" and "artistic integrity" and proffered instead "multi-cultural casting". This was likely done intentionally, as "non-traditional casting" is actually a defined term used in a LORT (League of Resident Theaters) contract. It is geared for "ethnic minority Actors, women Actors, and Actors with disabilities" to be cast in roles traditionally played by Caucasians. It is not meant for white actors to play Chinese royalty, which is the case of The Nightingale. The avoidance of using the legal term could be interpretated as evading a violation of the Playhouse's contract.
The La Jolla reps also seemed to issue an immediate directive that inroads be made into the APIA community, so that cultural consultants can advise and casting notices can reach APIA actors. But 22 years after Miss Saigon, I find it hard to believe La Jolla has no outreach or access to the APIA theatre community. The search is what matters — if a casting notice is put up on Actor's Access, actors and their reps will come in droves. La Jolla's casting notices did not contain a preference or any kind of notation that APIA actors were sought.
After a series of drawn out speeches by several panelists and audience members, the writer Steven Sater spoke up from the audience. He relayed that in a previous workshop, an all-Asian American cast did not work for the piece in his mind.
"I wanted to tell a story that reflected the world in which I live in…which is multicultural and multi-ethnic…I have to address what's in my heart. And my artist vision of this piece. If artists exist for anything, it is to bring the humanity out in all of us."
So, could the implication of his statement be that Asian American artists don't touch his heart and reflect humanity to the same degree?
In my opinion, it's easier to be explicitly told you're considered unwanted or insignificant, than to clutch onto an ideal that people will have a change of heart. Implicit in the actions of La Jolla is that Asians aren't worth the attention to tell their own stories. And while there were profuse apologies, they were merely for the offense and hurt felt. The only promise came from "the other side" (while the moderator said she didn't want a debate, panelists were placed on tables opposite each other according to their viewpoint). Cindy Cheung, a representative of New York's Asian American Performers Action Coalition, stated that if casting remains non-Asian, there will be protests.
Inside information relayed to me is that the all-Asian cast provided input that the powers-that-be didn't care for, such as: geishas don't belong in China. Cast members felt that they might be fired because the higher-ups didn't want to be challenged or informed about what's Chinese, what's Asian, and what's not.
The APIA caravan that travelled down to San Diego, some who drove two hours for the 50-minute panel and not the preceding performance, generally felt angered with a sense of unresolve. LeAnn Kim, former journalist and head of the San Diego Asian Film Festival, tended to the troops at a post-panel wrap up. Kim had tirelessly worked with the La Jolla Playhouse to hold the panel and to have members of the artistic team present. But some attendees left with the feeling that representation of APIAs hasn't progressed much in the 22 years after Miss Saigon…
41 years after Breakfast at Tiffanys,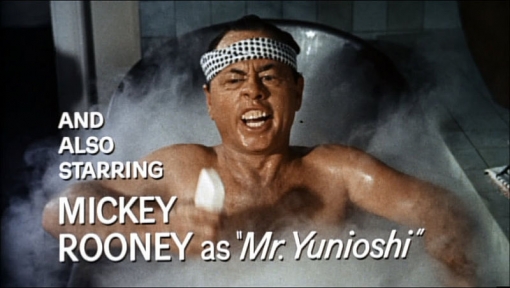 75 years after The Good Earth,
and 127 years after The Mikado.
The La Jolla team appeared like a weight was lifted from their shoulders — and perhaps, in their thinking, the APIA community's condemnation. But those who made the long drive home to Los Angeles left unsatisfied, with only the wounds of La Jolla and history gnawing at their resolve.
– See more at: http://www.hyphenmagazine.com/blog/archive/2012/07/la-jollas-nightingale-doesnt-sing-and-apology-doesnt-sway-many-apias#sthash.nwhafz0k.dpuf
Related posts: